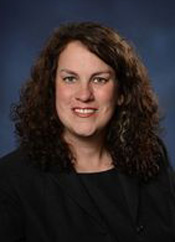 After earning her B.A. degree with a double major in political science and studio art from the University of Vermont in 1996, she obtained her Graduate Certificate in women's studies from the University of South Carolina in 1997. While attending the University of Virginia, Attorney Amicangelo traveled nationally as a member of the varsity debate team and was recognized as an Academic All-American Debater.
Attorney Amicangelo earned her Juris Doctorate, cum laude, in 2005 from Syracuse University College of Law, where she was on the Dean's List every year and awarded the C.A.L.I. Award for highest grade in Federal Criminal Law. She was the Form and Accuracy Editor of the Syracuse Law and Technology Journal.
She has been admitted to practice before the courts of the Commonwealth of Pennsylvania and the U.S. District Court for Western District of Pennsylvania.
Prior to joining the firm, Attorney Amicangelo worked as a staff attorney for Northwestern Legal Services where she supervised and advised attorneys on and represented clients in consumer law litigation, bankruptcy filings, mortgage foreclosures and tenant/landlord disputes. She started her law career in a small firm where she practiced family law, civil litigation and bankruptcy law.
Attorney Amincangelo was part of the Adjunct Faculty at Mercyhurst University where she taught Business Law I. Additionally, she volunteered as an advocate at a battered women's shelter and understands the needs and procedural process of protecting a client from abuse.