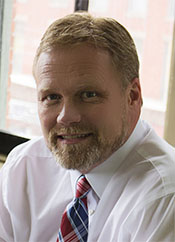 Attorney Hopkins has been in practice since 1995, first working as a criminal prosecutor before starting his own law firm. He has a proven record of success in reaching client's goals and has a level of jury trial experience few others can match. He represents clients in Collaborative law, divorce, child custody, child support, division of marital property, criminal defense, DUI defense (drunk driving), juvenile law, personal injury, estate planning, probate and estate administration services.
If you and your spouse are separating, you need an attorney who can help you resolve your legal issues as quickly and fairly as possible. Attorney Hopkins specializes in divorce, custody, and support. As a founding member of the Collaborative Professionals of Northwest Pennsylvania, he is dedicated to helping families resolve their issues without having to go to court.
Attorney Hopkins has gained a reputation for being both a fighter and fixer. He understands that there are times when it's necessary to fight for your rights aggressively. He also knows that there are times when fighting is the wrong approach. In family law matters, Attorney Hopkins offers collaborative divorce which is an alternative way to divorce that saves clients time and money and causes less stress on all parties. After years of nasty family litigation, he is genuinely delighted to represent clients using the collaborative process. His goal has always been to leave a client in a better position than when he first met them.
Damon C. Hopkins possesses a sophisticated legal knowledge that allows him to handle a wide range of legal matters. He will pay close, personal attention to your case and he strives to communicate clearly with you throughout the process. Attorney Hopkins understands that each case is unique and he takes the time to understand your particular situation and develop solutions that meet your needs and then he fights like hell to get you the best possible results.