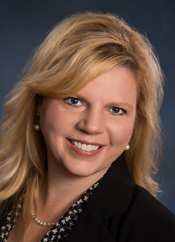 Attorney Orton graduated summa cum laude from Union University in Jackson, Tennessee with a Bachelor of Science in Business Administration (BSBA) degree in 1992. Attorney Orton earned a Juris Doctor (JD) degree and graduated cum laude from the University of Memphis in 1995.
Following her graduation from law school, Attorney Orton practiced at a small firm in Memphis, Tennessee. After moving to the Erie area, she operated her own general practice firm, served as an adjunct professor at Gannon University and then practiced law with a large firm.
Attorney Orton concentrates her practice on family law, estate planning & administration, and real estate.
With over twenty years of experience, Attorney Orton has successfully litigated and received favorable rulings in numerous family law matters including custody and support. She is also collaboratively trained in family law matters. Attorney Orton has experience in handling divorces, adoption, support, child custody, prenuptial agreements and postnuptial agreements.
Attorney Orton has written and edited several articles in connection with elder law and estate planning issues. She has also presented various seminars on family law and elder law issues. She is a former Article Editor for the National Academy of Elder Law Attorneys (NAELA) Student Journal and former member of NAELA and PAELA.
Attorney Orton is involved in various sections of both the Erie County and Pennsylvania Bar Associations and is a former member of the Estate Planning Council of Erie and the International Academy of Collaborative Professionals.
Attorney Orton was selected as the North East News Journal Readers' Choice "Best Attorney" for 2012, 2013 and 2017. She is actively involved in the North East community and is a Board Member of the Community Nursing Services of North East. Attorney Orton is a former Steering Committee member of the former North East Business Women's Roundtable and a current member of the North East Chamber of Commerce and the Order of the Eastern Star, Shiloh Chapter No. 153, North East.