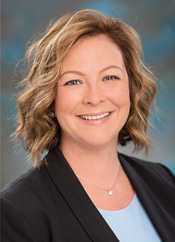 Melissa Sulkowski, R.N., M.A., LPC
Melissa Sulkowski is a Licensed Professional Counselor in the State of Pennsylvania who has been working with children and families since 1994. She holds her certification with the National Board of Certified Counselors. She has been in private practice since 2001 and now provides counseling to adults and couples as well. Melissa's focus is on individual growth, which lends itself to the development of healthy relationships and ultimately allows children and their families to thrive.
Melissa earned her Bachelor of Science in Nursing and Master of Arts in Counseling from Edinboro University. She keeps her registered nursing license current. Prior to opening her own practice she worked at a Residential Treatment Facilities for children. She held positions from that of child care worker at Sarah A. Reed Children's Center in 1994 to Program Director at Cornell Abraxas.
Over time, Melissa has expanded her practice to encompass and address not only the emotional needs of clients, but also the physical needs. It was her vision that brought Nurturinse Counseling and Wellness to fruition, now a holistic space that provides treatment for the body and mind. Services offered include acupuncture, massage, energy, and sound healing and nutrition. It is her belief in and commitment to others that has allowed this concept to flourish.
Melissa has received specialized training in Collaborative Practice and is a founding member of the Collaborative Professionals of Northwest PA. She functions as a divorce coach and a child specialist on collaborative teams, supporting the emotional needs of the family. This method allows her to accomplish successful resolutions for families going through a divorce without having to go into a courtroom. Facilitating team meetings, coaching the parents in developing parenting plans and giving the child a voice in the process are skill sets that Melissa brings to the collaborative table.
Melissa has also been trained in mediation and is now credentialed to conduct Family Mediation.
In 2013 Melissa co-presented "Fatal (Fiscal) Attraction: Spendthrifts and Tightwads" at the IACP International Forum in San Antonio, Texas. Her Forum impressions were later published in the The Trend: A Newsletter of the PA Bar Association's Collaborative Law Committee. In addition, Melissa was elected by the IACP for their first "Leadership Academy". This is a program designed to create collaborative leaders with a mission to continue the momentum of the collaborative movement internationally. Melissa became the President of the Collaborative Professionals of Northwest Pennsylvania in May 2014.
In February of 2014 Melissa was selected as a recipient of the Athena PowerLink award. This program recognizes potential in woman owned businesses and assists them in taking their business to the "next level". The mission is to increase growth and profitability of the business while supporting, developing and inspiring women leaders to achieve their full potential.
*Founding Member
**Therapist